After writing a contemplative blog post yesterday, I felt inspired today to write about something equally deep and thoughtful today. However, that was before I discovered Miraculous Ladybug. Hopefully you will bear with me because I AM SO EXCITED ABOUT THIS TV SHOW I FOUND!!!!!!!!!!
I'm going to do that thing they tell you never to do in writing…quote Wikipedia for the description of the show. Miraculous: Tale of Ladybug and Cat Noir is:
"Set in modern-day Paris, the series focuses on teenagers Marinette Dupain-Cheng and her classmate and crush Adrien Agreste. When evil arises, Marinette transforms into her secret superhero persona Ladybug, while Adrien transforms into his superhero persona Cat Noir, using powerful objects known as the Miraculous. Oblivious to each other's true identities, the two work together to protect Paris from the mysterious villain Hawk Moth, who covets and attempts to steal their powers by using his akuma, butterflies infused with black energy, to influence and transform everyday citizens into supervillains."
Yes, this is a children's TV show about a superhero who has ladybug powers. But it is so fun! The characters are really creative and fun and the villains are zany and different. The show is set in France and uses CGI animation but you can feel the anime/Asian influence. The horrid/corny/fantastic puns thrown in each episode are entertaining on every level and the real chemistry between Ladybug and Cat Noir keeps the teenybopper drama at bay.
I really love Cat Noir.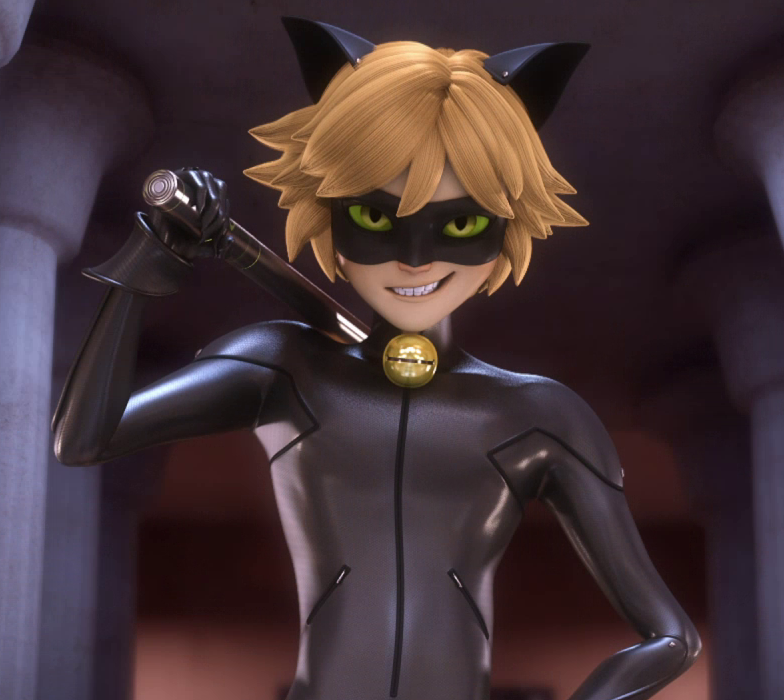 While this show is lighthearted and slightly formulaic, it brings originality and just good fun to a creative idea and I've enjoyed watching it in the same way I enjoy watching Barbie Life in the Dream House and Word Girl and Legion of Superheroes. Am I the intended age demographic? Nope! Do I enjoy every moment of it? Absolutely. 
The theme song is one of the best parts. I've had it stuck in my head all day. 
Check out the first ten episodes dubbed English here! –